Blankets: A Graphic Novel
By Craig Thompson,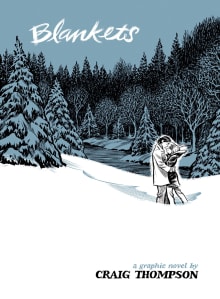 Why this book?
Blankets changed my life for the better. I really connected with this novel. It was the first graphic memoir I had ever read and I loved it so much. Everything from the story and characters, to the flowing pen and ink art style. It was glorious! I could not put it down and read it from cover to cover. Upside-down and backward. I couldn't get enough of this book. It taught me to be more forgiving and understanding of people. I laughed, I cried. I felt like this book was missing from my life and I had found something truly special. 
This book helped me overcome my own heartache in college and grow to become a better person. I wanted to illustrate just like Craig Thompson. I wanted to draw and feel like I was giving back to others the same way he did for me with Blankets. This book will always be number one for me.
---