Man on the Moon (a day in the life of Bob)
By Simon Bartram,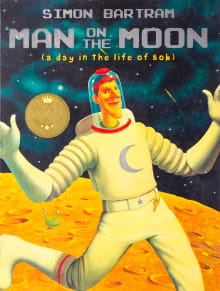 Why this book?
This is one of my all-time favourite books I used to read to my children at bedtime.
It has all the beauty of a completely stylized, detailed, and yet seemingly believable world both on earth and on the moon, yet includes aliens! I think the marriage of story and pictures works perfectly, with the reader finding aliens on every page, seemingly unbeknown to the writer!
It makes for fantastic squeals of delight as children find aliens, more seeming to appear on each consecutive read. I think it's a great book to let the imagination run as well as stimulating conversations about what really might be on the moon. Brilliant!
---