In the Land of the Blue Poppies: The Collected Plant-Hunting Writings of Frank Kingdon Ward
By Frank Kingdon Ward,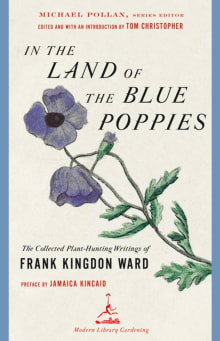 Why this book?
Once upon a time, "plant explorers," intrepid botanists (mainly from the UK) fanned out over the lesser-known world looking for interesting plants to bring into wider appreciation and cultivation. Frank Kingdon Ward (1885-1958) is best known for introducing the breathtakingly beautiful Tibetan blue poppy. There's an internet meme featuring his grizzled face with the caption "Make sure you want it enough," a clear reference to what he went through to bring his prizes back. (Imagine: you spot the fabulous blue poppy in some remote place, but, you have to find a way to return in a few months to get seeds.) This book, edited by Thomas Christopher and with a preface by Jamaica Kincaid (both super-credentialed horticulturists and authors), features highly readable, awe-inspiring selections from the great man's journals.
---