The Not-So-Friendly Friend: How to Set Boundaries for Healthy Friendships
By Christina Furnival, Katie Dwyer (illustrator),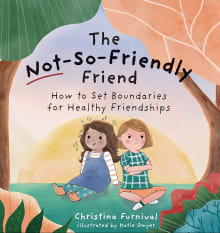 Why this book?
The author is a mom and clinician herself and based on clinical best practices has written a lovely rhyming book to help young children deal with boundaries and bullies in a way that is accessible for younger readers. Ideal for school, daycare, and clinical settings. As a parent of an empathic child, I found this book an easy way to introduce the concepts of self-worth and appropriate relationships. If you have a child that is experiencing bullying or needs to set boundaries at school, then this book is an excellent addition to your library.  
---