Design Fundamentals: Notes on Visual Elements & Principles of Composition
By Rose Gonnella, Christopher J. Navetta, Max Friedman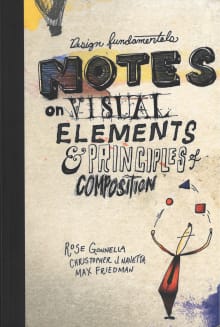 Why this book?
This book is an object of art. Beyond reading this book for all the information on the history of letterforms, the anatomy of letterforms, how to distinguish typefaces, and all the key concepts about typographic design you need to know, any reader will become a viewer—gazing at the beautiful illustrations for hours on end.
Leave it to the brilliant artist Rose Gonnella to turn a typography book into a masterpiece that belongs not in the museum gift shop but in the museum proper. Run don't walk to your device or nearest bookseller to get this treasure. This book is one of three in a series on design fundamentals by the same authors.
---
When you buy a book we may earn a small commission.