Memories, Dreams, Reflections
By Clara Winston, C.G. Jung, Aniela Jaffe, Richard Winston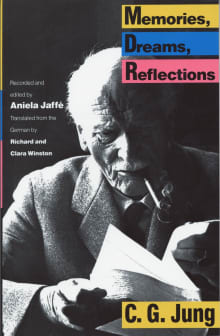 Why this book?
C. J. Jung stood large on the world scene. Freud, much his senior and a household name when they met, was at first a father figure, Freud thought of Jung as natural heir to his psychoanalytic method, Jung's ultimate rejection of its central tenets led in the end to their break.
Jung's analysis was sought by distinguished people all over the world. During W. W. II the CIA had him develop a psychological profile of Hitler.
Jung's Collected Works consists of 19 volumes. A less daunting way to get acquainted with him is through the famous MDR, (Memories, Dreams, Reflections) dictated late in life. The book focuses entirely on Jung's interior life—his thoughts, his influences, his visions, and Ideations. It was in these that Jung saw his life's meaning.

---