If Not for the Cat
By Jack Prelutsky, Ted Rand (illustrator),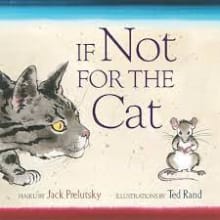 Why this book?
After writing 14 children's books about art appreciation, I decided to try my hand at children's poetry. When I read this collection of haiku by Jack Prelutsky, it was a revelation. Each poem is a first-person description of an animal, full of rich, unexpected language. By writing in first-person, Prelutsky broke one of haiku's cardinal rules. But it worked—and inspired me to write my own collection in the first person as well. Here's one of my favorites poems in his book:
Raucously we caw.
Your straw men do not fool us.
We burgle your corn.
---