I'm a Hare, So There!
By Julie Rowan-Zoch,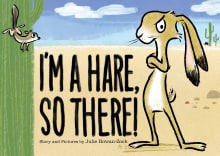 Why this book?
This is another book about appreciating differences told with in-your-face humor using a case of mistaken identity. When a chipmunk accuses a hare of being a rabbit, the hare stands up for itself. In doing so, hare describes the traits of a hare versus a jackrabbit. It's a simple way to show kids the difference between animals that seem alike but are not. Like a turtle and a tortoise. Turns out chipmunk is not who hare thinks he is! A fun way to learn about desert creatures.
---