The Last Shot: City Streets, Basketball Dreams
By Darcy Frey,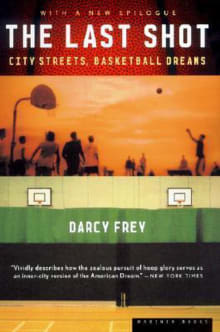 Why this book?
The Last Shot chronicles the fortunes of the basketball team from Abraham Lincoln High School in Coney Island in the early 1990s. Frey spent a year with several of the players, got to know them, and provided a moving, painful account of the extraordinarily difficult circumstances in which they lived. The book is, perhaps, most famous because the star freshman on that team was Stephon Marbury, playground legend and future NBA superstar. But Frey's intimate, compassionate and tragic portrait of the other players, as they strived to escape their circumstances, and the obstacles to doing so, are what remain so memorable decades later. 
One detail that has never left me - most of the kids hailed from a housing project a mile from the last Coney Island subway stop, in what we would now call a food and health care desert. There was no public transportation, no supermarket, and no health center or hospital near the monstrous public housing project that epitomized the failures of American housing policy, poverty-fighting, and the ceaseless stain of race and racism on America. It was these conditions the youngsters were trying to escape, and basketball appeared to be the only vehicle for doing so.
---