The Last Shot
By Darcy Frey,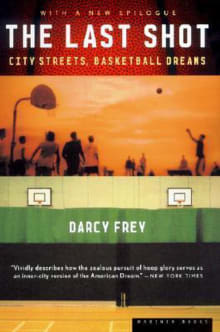 Book description
Coming soon!
Shepherd is reader supported. We may earn an affiliate commission when you buy through links on our website. (learn more)
Why read it?
3 authors picked The Last Shot as one of their favorite books. Why do they recommend it?
Michael D'Orso
This book is similar to mine, following a team of high school basketball players through a season, but it's set in an urban environment: Brooklyn's Coney Island. The boys it focuses on are African-American, the off-court struggles they and their community face (crime, violence, drug use, the lure of the streets, and the corruption of college basketball recruiters) differ from those that challenge the kids in remote Alaska, but the joy and solace they find in the game itself are the same. The writing is terrific—lucidly and intimately bringing to life the four boys whose lives it focuses on.
Carl Deuker
Frey follows four Coney Island high school basketball stars (including Stephon Marbury) as they attempt to navigate through the gangs, drugs, and violence of the housing projects in order to wrap their hands around the Holy Grail--a D-1 basketball scholarship. Pressure--athletic and academic--is constant. NCAA coaches size them up the way judges examine livestock at a 4-H show. What's your scoring average? Rebounds? Assists? GPA? SAT score? What can you do for me? Lurking in the background are more fundamental questions: How can neighborhoods like this be healed? How can these young men be healed? The book is twenty years…
Jonathan Weiler
The Last Shot chronicles the fortunes of the basketball team from Abraham Lincoln High School in Coney Island in the early 1990s. Frey spent a year with several of the players, got to know them, and provided a moving, painful account of the extraordinarily difficult circumstances in which they lived. The book is, perhaps, most famous because the star freshman on that team was Stephon Marbury, playground legend and future NBA superstar. But Frey's intimate, compassionate and tragic portrait of the other players, as they strived to escape their circumstances, and the obstacles to doing so, are what remain so…