What I Learned Losing a Million Dollars
By Jim Paul, Brendan Moynihan,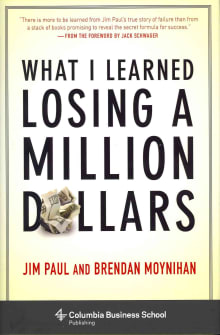 Recommended by Kevin J. Davey
From Kevin's list on that help to become a champion trader.
It is a shame the author of this book died in the 9/11 World Trade Center terrorist attack because I always wanted to hear more from him. As with most of the books on this list, for me the details of what he did (did he enter with moving averages? How did he apply stochastics to his entry signals? Etc.) are not nearly as important as his mental state of mind. What did he feel like losing $1 million? How did he recover mentally? For me, being a good trader involves dealing with losses, and this book does a superb job of detailing how one trader did just that.
---