Rain Reign
By Ann M. Martin,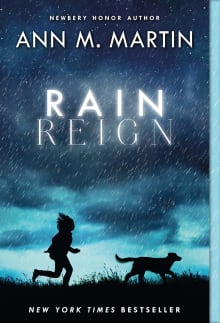 Recommended by Melissa Hart
From Melissa's list on total family meltdowns.
This is the story of a girl named Rose, who is autistic and obsessed with homonyms. She lives with her father who's often impatient with her needs and abandons her to drink at the local bar. Her mother has vanished, and Rose turns to her sympathetic uncle and her beloved new dog for comfort.  When her dad lets the dog out during a storm, Rose and her uncle find the dog and realize it already has an owner. She learns the truth of her mother's disappearance and moves in with her uncle. 
Once again, here's a story about the healing relationship that can exist between a kid and an animal. And as the sibling of a person with Down syndrome and a former special education teacher, I'm impressed with the author's respectful portrayal of a girl on the autism spectrum.

---