The Power of Your Other Hand
By Lucia Capacchione,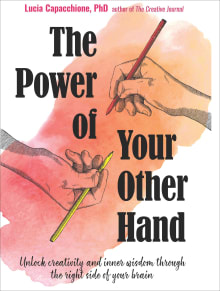 Book description
Brain researchers have in recent years have discovered the vast, untapped potential of the brain's little-used, right hemisphere. Art therapist Lucia Capacchione discovered that our nondominant hand is a direct channel to that potential. Her research and fieldwork with people using their "other hand" provides the raw material for this…
Why read it?
1 author picked The Power of Your Other Hand as one of their favorite books. Why do they recommend it?
Mona Brookes
After reading this book, I discovered a new art form.
Lucia was a multifaceted creative professional. She collaborated with schools to train teachers in creative journal writing, developed a method called "healing the inner child," and co-wrote The Arts in Schools program with L.A. school officials.
The book discusses brain functions and ways to enhance creativity. The author recounts her experiment with drawing and writing using her non-dominant hand and encourages readers to try it themselves.
I tried it out as a test subject, and instead of drawing upside down, the author asked me to write a question with my…