The Long Ships
By Frans G. Bengtsson, Michael Meyer,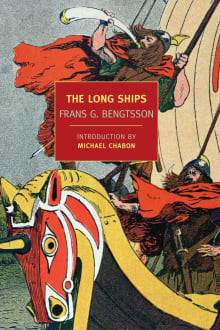 Book description
This saga brings alive the world of the 10th century AD when the Vikings raided the coasts of England.
Acclaimed as one of the best historical novels ever written, this engaging saga of Viking adventure in 10th century northern Europe has a very appealing young hero, Orm Tostesson, whose story…
Shepherd is reader supported. We may earn an affiliate commission when you buy through links on our website. (learn more)
Why read it?
3 authors picked The Long Ships as one of their favorite books. Why do they recommend it?
Stephen Arnott
Something of a forgotten classic, this used to be the most widely read novel in Sweden. Though not strictly a book about English history, the story describes the impact of the raids of the Northmen on England through the eyes of our protagonist, Red Orm, and details his adventures in Moorish Spain, Ireland, Sweden, and the Byzantine Empire. This is a classic tale of exploration and discovery that also manages to present us with a very believable view of the late 10th-century world, especially that of Anglo-Saxon England during the reign of Ethelred the Unready. If you enjoy high adventure…
Jesse Browner
Set among marauding Vikings in the 10th century, it's a stretch to call The Long Ships a novel of the ancient world, but I love it so much that I don't care. The book takes us from Scandinavia to England, Ireland, Muslim Spain, and Russia as the protagonists loot, kill, are enslaved, hunt for lost treasure, and ultimately return to their farms to live in peace as the Viking age dwindles to its end. All of this is great fun and educational, but the book's great feat is to humanize these warriors in a way rarely seen – Vikings,…
Andrew Hudgins
Whenever someone asks me to recommend a historical novel, the first title out of my mouth is always The Long Ships. I loved it when I read it as a boy and then loved it all over again half a century later when I reread it. The Long Ships is the epic 11th-century story of Red Orm, who is abducted as a boy by Vikings and then abducted again put work as a galley slave and later bodyguard in the service of Almansur, the Arab warrior who is intent on spread the Islamic influence in Spain. And that's just…