The Disappearance
By Geneviève Jurgensen, Adriana Hunter (translator),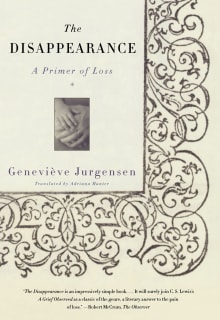 Book description
What do you do, how do you live, when both of your daughters are killed on the same afternoon?
On April 30, 1980, Genevieve Jurgensen found herself facing that question when she lost her four- and seven-year-old daughters to a drunk driver. Here she presents her search for an answer.
Why read it?
1 author picked The Disappearance as one of their favorite books. Why do they recommend it?
Monica Wesolowska
Upon receiving the news that her two young daughters had been killed by a drunk driver, Genevieve Jurgensen didn't think she could go on, let alone ever write about her loss. Fortunately for us, she eventually found a way to tell this story. Through letters to a friend, she draws us in, circling the pain of that terrible day, musing about the mysterious ways in which loss can coexist with a happy, ongoing life. With its raw and intimate feel, the book is a profoundly moving testimony to the complicated process of healing.