The Complete Hammer's Slammers
By David Drake,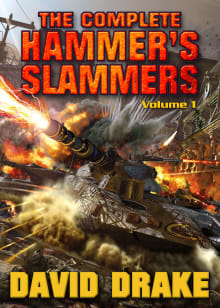 Book description
The bestselling series that rocketed David Drake to Military Science Fiction stardom is collected in this first of three volumes.
Why read it?
3 authors picked The Complete Hammer's Slammers as one of their favorite books. Why do they recommend it?
Nathan W. Toronto
Drake served in an armor unit in Southeast Asia in the 1970s, so it's no coincidence that Hammer's Slammers, a collection of short stories, revolves around a tank unit. So many military SFF stories focus on knuckle-dragging ground-pounders, so it's refreshing to see war from a tank turret. Drake has been accused of writing gun porn, but I find a lot of nuance in his writing, especially on combat motivation and small-unit leadership. He was one of the first military SFF authors to write an openly gay character, and women fight right alongside men without the misogynistic or objectifying…
Thomas Sewell
David Drake combined futuristic weapons and armor with the spirit of raw, down-to-earth, military reality; while still managing to have fun with it all. He introduces futuristic military technology like fusion-powered hovertanks firing bolts of plasma and then shows the minds of those who plot to use them to the best strategic advantage.
His work collided my science fiction and economic interests with my military and espionage adventures. Tactics and technology. Realistic military relationships combined with ever-present military bureaucracies. Drake describes both the brotherhood of war and the ultimate casual destructiveness of it, while keeping his characters' humanity mostly intact.…
William C. Dietz
Hammer's Slammers blew my mind when I read it. The concept, the plot, the dialog, and the tech were cutting edge at the time--and had a profound impact on what I wrote later on. Eventually, I was invited to co-author a book with Dave called Cluster Command. And it was a wonderful experience.