Little House on the Prairie
By Laura Ingalls Wilder, Garth Williams (illustrator),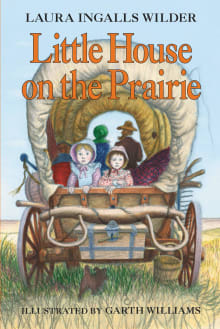 Book description
Classic tales by Laura Ingalls Wilder about life on the frontier and America's best-loved pioneer family.
The sun-kissed prairie stretches out around the Ingalls family, smiling its welcome after their long, hard journey across America. But looks can be deceiving and they soon find that they must share the land…
Shepherd is reader supported. We may earn an affiliate commission when you buy through links on our website. (learn more)
Why read it?
3 authors picked Little House on the Prairie as one of their favorite books. Why do they recommend it?
Shaz Kahng
What an amazing time to grow up in America as a pioneer settling into life on the prairie. This is the true story of Laura Ingalls Wilder's resilient and loving family as they built their own home, hunted for their own food, and farmed the land. I read this book and others from the series to my daughters who were mesmerized by the life Laura led and the courage she displayed. The story depicts the challenges and the joys her family found in forging their own path and living life the way they wanted. The fact that the author captured…
Kathleen Wilford
If you're a kid, read these books with adult guidance, since the characters express racist attitudes, especially toward Native Americans. But do read them. Labelled fiction, they're closely based on Laura Ingalls Wilder's own experiences, and they're the closest you'll get to a first-hand account of pioneer life. The stories are sometimes harrowing but always absorbing, and the details are fascinating. I've read them many times, and they helped fuel my love for historical fiction
Chris Hannan
Another eco-classic. The night the little house is surrounded by wolves! And yet this story for children is an explosive cocktail. It is as fresh as homemade lemonade but it is also shot through with shocking white imperialism. Pa tells the little girl: "When white settlers come into a country, the Indians have to move on.  The government is going to move these Indians farther west any time now. That's why we're here, Laura. White people are going to settle all this country, and we get the best land because we get here first and take our pick. Now…