Emotional Intelligence
By Daniel Goleman,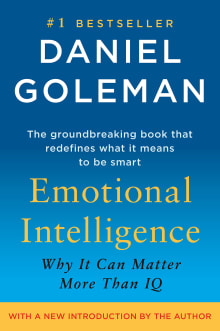 Book description
The groundbreaking bestseller that redefines intelligence and success Does IQ define our destiny? Daniel Goleman argues that our view of human intelligence is far too narrow, and that our emotions play major role in thought, decision making and individual success. Self-awareness, impulse control, persistence, motivation, empathy and social deftness are…
Shepherd is reader supported. We may earn an affiliate commission when you buy through links on our website. (learn more)
Why read it?
3 authors picked Emotional Intelligence as one of their favorite books. Why do they recommend it?
Eve Poole
A necessary corrective to Machiavelli is Goleman's classic on Emotional Intelligence. Leadership is always a balance between being right and being liked, but you can be both if you have excellent EQ. Goleman sets out the theory, before introducing a practical approach to increasing your emotional competence. The model he developed, which is at the heart of the EQ psychometrics he inspired, starts with self-awareness and your ability to read others, then considers your ability to manage yourself, and your ability to manage others in relationship. It is this last set of competencies that is so vital for delivering through…
Tony Sandy
Goleman's book added a new dimension to this by bringing in brain anatomy, especially the function of the amygdala. This is the most primitive part of this organ and it is often referred to as the reptilian brain. Once again it made me aware of the turbulent, reactive part of our emotional setup, acting impulsively and shattering my stability at every turn, in the form of male/female relationships. Like Dabrowski's theory of positive disintegration, it made me look at the world anew.
Terry R. Bacon
People frequently make decisions emotionally and then justify those decisions with logic. That's why emotional intelligence is so important in understanding how to influence others. Goleman's book popularized the concept of emotional intelligence and made it more accessible. In it, he discusses the importance of knowing yourself and your feelings and being able to regulate your emotions productively. The core of the book addresses social skills, empathy, and understanding what motivates others when they make decisions—and these are crucial skills in influencing others. While Goleman's book does not directly address influencing skills, he lays the foundations for the social and…