Handbook of Women Biblical Interpreters: A Historical and Biographical Guide
By Marion Ann Taylor,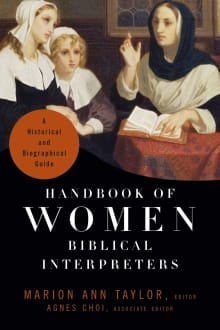 Why this book?
In 2007, when Marion Ann Taylor, a pioneer researcher in the study of historical women biblical commentators, picked up a newly-published biographical encyclopedia of 200 "major biblical interpreters," she was appalled to discover that it contained entries on only three women! This inspired her to edit a biographical dictionary dedicated solely to women who interpreted scripture. Taylor's handbook contains 180 short articles, authored by expert historians and biblical scholars, about inspiring Jewish and Christian women who wrote about the Bible through the centuries. Readers learn biographical information about these women, as well as their approaches to scriptural interpretation, especially how they commented on the story of Eve and passages about other biblical women.
---