Sharks and Little Fish: A Novel of German Submarine Warfare
By Wolfgang Ott, Ralph Manheim (translator),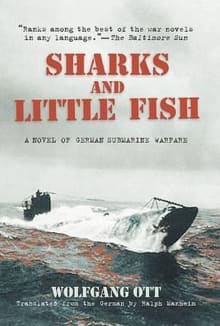 Why this book?
This novel was first published in Germany in 1954, based on the author's actual experience as a U-boat man during the Second World War. Told through the eyes of the fictional Teichmann, it is a visceral tour-de-force of German naval life beginning on minesweepers and gravitating toward U-boats. A brilliant portrayal of a grim reality.
I read this book during my teenage years and it was one of the first times I can remember reading a book that is grittily realistic; devoid of the 'boy's own' adventure style of many Second World War novels, but nor did it preach an obvious repentance by the German protagonist that also became quite common. In that sense, it's virtually a dramatized documentary story of the author's war.
---