Nanjung Ilgi; War Diary of Admiral Yi Sun-sin
By Pow-key Sohn, Tae-Hung Ha (translator),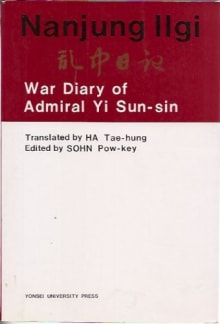 Why this book?
If you want to learn about a time or a culture, I think an excellent way to start is to consult a primary source. Since I was setting my novel in the 16th century during the Japanese invasion of Korea, I wanted to learn as much as I could firsthand. This diary, written by Korea's most famous admiral, is rich with cultural information and personal anecdotes. Admiral Yi Sun-Shin is a legendary war hero—brilliant, brave, and scrappy—whom Koreans compare to Admiral Nelson of the British Royal Navy. As I wrote my novel, I was inspired by the words of a man who accomplished greatness despite political intrigue and palace traitors, and who defeated a Japanese fleet that outnumbered his forces by 333 ships to 13. 
---