How War Came, The Immediate Origins of the Second World War 1938-1939
By Donald Cameron Watt,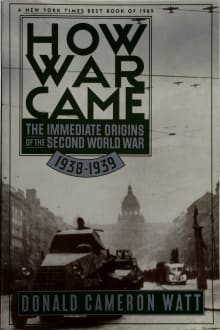 Why this book?
First recommended to me by a renowned authority on European history, this big book is far and away the most comprehensive study of the origins of World War II that I read while preparing to write my own book. Watt not only traces the rise of Hitler and the absolutely ruthless steps he took to make himself master of Germany throughout the 1930s; Watt also shows exactly how Roosevelt maneuvered his way around American isolationists who were dead set against any American involvement in the new war. On top of that, Watt shows how Britain and every other European country outside Germany were responding to the prospect that within twenty years of a war that had taken 20 million lives and wounded 21 million more, Europe was facing the unthinkable: a second World War. 
---