Irena's Children: The Extraordinary Story of the Woman Who Saved 2,500 Children from the Warsaw Ghetto
By Tilar J. Mazzeo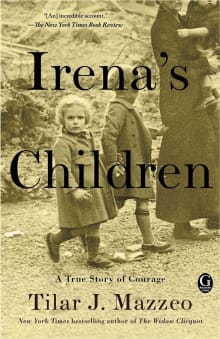 Why this book?
Irena (Sendlerowa) Sendler, a Polish Catholic, worked as a social worker for the City of Warsaw. After the Germans invaded Poland in 1939, she worked forging identity papers and assisting Jews, many of whom were friends. She used her access to the Warsaw ghetto to help rescue over 2,500 Jewish children. After the Gestapo arrested her, she survived brutal torture but never once gave up a child's or fellow rescuer's name. 
Irena's story serves as a symbol of all those people who helped her, the members of Polish resistance organizations, and the thousands of Poles who risked their own lives and the lives of their families, to assist, shelter, and rescue Jews. Yad Vashem recognizes over 7,000 Poles as Righteous Among the Nations. For various reasons, the actual number of Polish rescuers is likely thousands more. This account by Tilar J. Mazzeo does justice to the story and brings out the human side of the remarkable Irena Sendler.
---
When you buy a book we may earn a small commission.