Philosophy of Material Nature: Metaphysical Foundations of Natural Science and Prolegomena
By Immanuel Kant, James W. Ellington,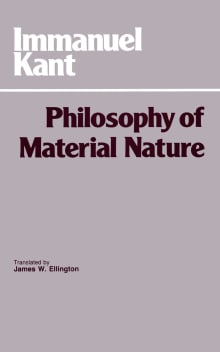 Why this book?
Immanuel Kant is one of the most important figures in the history of philosophy – specifically regarding metaphysics – because he discovered the internal logic and organization for all of philosophical metaphysics. The book with which Kant accomplished that monumental feat is extremely difficult to read and understand. Therefore, Kant wrote an easier-to-read version, and that is the book that I am recommending: Philosophy of Material Nature. This book is highly affordable and readable.
The book that the Philosophy of Material Nature paraphrases is, of course, the Critique of Pure Reason. What all of these works show us is that philosophical metaphysics naturally divides into theological metaphysics, cosmological metaphysics, and psychological metaphysics. Kant's achievement is standardly characterized as the articulation of philosophical metaphysics as a science. The general term for such a science is "transcendental philosophy." Thus, the rest of the books in this recommendation list relate to that division and organization of philosophical metaphysics.
---