Difference and Repetition
By Gilles Deleuze, Paul Patton (translator),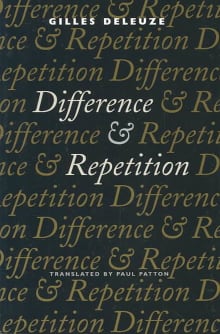 Book description
This brilliant exposition of the critique of identity is a classic in contemporary philosophy and one of Deleuze's most important works. Of fundamental importance to literary critics and philosophers,Difference and Repetition develops two central concepts-pure difference and complex repetition-and shows how the two concepts are related. While difference implies divergence…
Why read it?
1 author picked Difference and Repetition as one of their favorite books. Why do they recommend it?
Frank Scalambrino
In my opinion, Gilles Deleuze was the greatest French philosopher of the 20th century, and that century was loaded with amazing French philosophers. Deleuze wrote a large number of excellent books. However, his doctoral dissertation, Difference and Repetition, is quite special. On the one hand, it is – from a philosophical point of view – very enjoyable to read. Though, some may find its style too layered and allusive. On the other hand, Difference and Repetition is also consistently listed as one of the three greatest works in philosophy written in the 20th century. Ultimately, in regard…