Philosophy of Material Nature
By Immanuel Kant, James W. Ellington,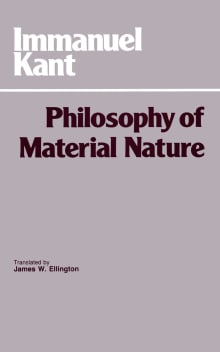 Book description
This volume combines two of Kant's key works on the metaphysics of nature--the Prolegomena to Any Future Metaphysics That Will Be Able to Come Forward as Science and Metaphysical Foundations of Natural Science --in the preeminent translations of James W. Ellington. Each work is preceded by an expert Introduction by…
Why read it?
1 author picked Philosophy of Material Nature as one of their favorite books. Why do they recommend it?
Frank Scalambrino
Immanuel Kant is one of the most important figures in the history of philosophy – specifically regarding metaphysics – because he discovered the internal logic and organization for all of philosophical metaphysics. The book with which Kant accomplished that monumental feat is extremely difficult to read and understand. Therefore, Kant wrote an easier-to-read version, and that is the book that I am recommending: Philosophy of Material Nature. This book is highly affordable and readable.
The book that the Philosophy of Material Nature paraphrases is, of course, the Critique of Pure Reason. What all of these works show us…