Bees: Their Vision, Chemical Senses, and Language
By Karl Von Frisch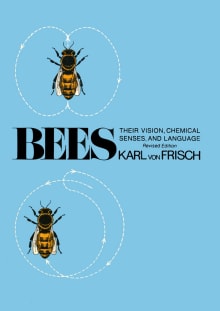 Why this book?
I received this book from my father as a Christmas present at age 16, in 1956. The author is a Professor of Zoology who made one of the most stunning discoveries of biology of the last century: honeybees communicate direction and distance of a food source they had found to their hive-mates, within the darkness of their hive.
The code involves the movements of their bodies in a "dance," that gives directions with respect to the position of the sun, but at the same time that position shifts with time, the bees without seeing it take into account its movement in the sky, to within about 15 minutes. His experimental proofs deciphering the bees' "dances" are simple and direct, as was his writing of them. The book was and still is an inspiration,  a revelation of nature's beauty that no one had seen before.
---
When you buy a book we may earn a small commission.