Pass Go and Collect $200: The Real Story of How Monopoly Was Invented
By Tanya Lee Stone, Steven Salerno (illustrator),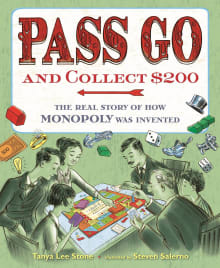 Why this book?
I am fascinated by how everyday objects are invented, and in this book, readers will discover the real story of how the beloved Monopoly board game was created. The story is often misreported with the credit attributed to Charles Darrow, the man who popularized the game and sold it to the Parker Brothers. In fact, the game was invented by Lizzie Magie, who wanted to draw attention to financial inequality. The author challenges readers to decide – who was the real winner? Because, ironically, Magie sold her patent for only $500, while Darrow stood to make millions and appropriated the credit for the invention. But without the changes and improvements to the game made by the two of them, perhaps nobody would get to play Monopoly as we know it today.  
---