Der Nackte Mensch: Hand- und Lehrbuch der Anatomie fur Kunstler
By Gottfried Bammes,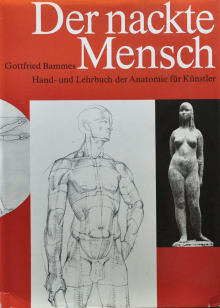 Why this book?
While the West was busy with postmodernism, the Soviet world cultivated social realism based on the 19th-century figurative tradition of the École des Beaux-Arts in Paris. East Germany was no exception with its own figurative tradition at Dresden Academy of Fine Arts. Gottfried Bammes was a professor of art there, and he further developed classical anatomy studies by introducing a more scientific approach. Illustrations in Der Nackte Mensch are precisely measured and reliable, and each of them introduces a new way to look at human anatomy. Concepts such as wire-framing and splitting organic form into geometric shapes appear here. This book is full of ideas, and it has been a huge influence on how I perceive human anatomy. Gottfried Bammes is, in my opinion, the greatest anatomist of the 20th century!
---