Unnatural Nature of Science
By Lewis Wolpert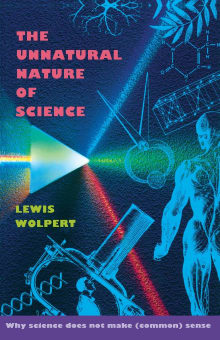 Why this book?
I spend a lot of my time trying to clarify the bilge poured out by the merchants of fake science: the flat-earthers, creationists, and climate deniers mainly, but also medical quacks and other fruitloops who throw out alternative science, stuff which is like normal science, with one small exception. I was already fighting these fights when Wolpert came to Sydney, and I chaired a lecture he gave. He showed us where the problem lay in combatting idiocy: the idiots depend on naïve and naked intuition.

Invariably, these unhinged pseudo-realities rely on a simple misreading of scientific lore, and Lewis explained that this is because a great deal of science is counter-intuitive. We can't see evolution happening, the world looks flat, the sun appears to go around us, and common sense says that kinetic energy must be proportional to velocity, not it's square. Enter the simpleton who slept through a key science lesson, and a new brand of fake science oozes out into the world.
---
When you buy a book we may earn a small commission.