The Only Unavoidable Subject of Regret: George Washington, Slavery, and the Enslaved Community at Mount Vernon
By Mary V. Thompson,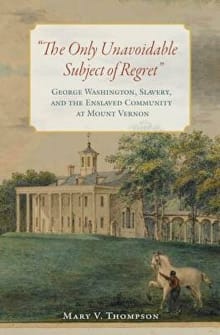 Why this book?
If Mary V. Thompson didn't work at Mount Vernon, George Washington's historic home and forced labor camp, we would still have plenty of books on the first president, but they wouldn't be nearly as good--or accurate. Every discovery an author has claimed or book that hit the bestseller list can be traced back to Thompson, and her latest book on slavery at Mount Vernon should be on every self-proclaimed history buff's bookshelf.

---