France and Women, 1789-1914: Gender, Society and Politics
By James F. McMillan,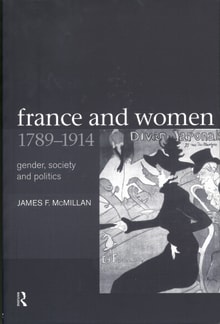 Why this book?
Every biographer needs a reliable social history, an authority that distils the essential, orders the chronology, and acts as a framework on which to pin all those facts. In his assured style, James F. McMillan artfully weaves the myriad strands of history into a seamless and engaging narrative. From prostitutes to housewives and from workers to salonières, the author spans the whole social spectrum to pinpoint not just what French women did, but why, and crucially, how their actions were received. The scrupulous research, swift pace, and crisp style make this comprehensive study a bible to anyone interested in the history of French women during the long 19th century.

---