Mental Models: Aligning Design Strategy with Human Behavior
By Indi Young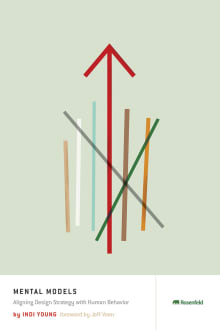 Why this book?
A mental model is our unique map of all our knowledge. Each person has their own, and we can't see each other's mental models or even see our own. Yet those maps dictate everything about how we show up and how we interpret the world around us. 
Mental Models by Indi Young is the best deep dive into this subject and stands as a must-read for anyone making things for other humans to make sense of. If you are going to succeed in practicing information architecture, you must become increasingly adept at understanding how other people think about the world. 
I recommend this book because it takes something theoretical and presents a solid methodological approach that anyone can grasp and adapt to their process as long as they are curious. This book also served as a major inspiration when writing How to Make Sense of Any Mess, as it was a strong example of the value that can be created by digging into an academic topic from a practical perspective.
---
When you buy a book we may earn a small commission.