A People's Atlas of Detroit
By Linda Campbell, Andrew Newman, Sara Safransky, Tim Stallmann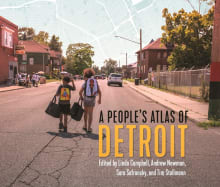 Why this book?
Detroit is a city shaped by social movements. Even in the city's darkest times of violent uprisings, outmigration, and bankruptcy, ordinary Detroiters remained committed to transformative change - banding together to challenge issues of racial injustice, housing access, food sovereignty, workers' rights, and accountable governance. A People's Atlas of Detroit is community-based scholar-activism at its best.
The brilliantly illustrated collection of maps, essays, photographs, poetry, and interviews is the outcome of a multi-year project involving over fifty residents from all walks of life who are at the forefront of local social justice initiatives. Through its combination of radical cartography, historical perspectives, and firsthand reflections, A People's Atlas elevates the voices of the underrecognized people who are actively charting courses for a more equitable urban future. 
---
When you buy a book we may earn a small commission.