Chronicle of the Pharaohs: The Reign-by-Reign Record of the Rulers and Dynasties of Ancient Egypt (The Chronicles Series)
By Peter A. Clayton,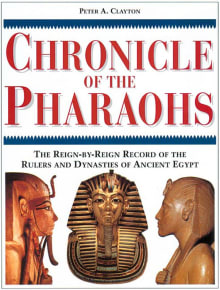 Why this book?
The history of ancient Egypt spans more than 3,000 years. That's a lot to keep track of!
This book is a great guide, breaking it all down dynasty by dynasty and reign by reign. 

Want to know what the Old Kingdom was about? It's in here.

Want to know all of King Tut's names? They're in here too, spelled out for modern readers and drawn in hieroglyphs as well.

I've been studying and writing about ancient Egypt for decades now, and I still need a cheat sheet from time to time. Chronicle of the Pharaohs is one of my go-to reference books and sits on a shelf close at hand in my office.

---