Cultural Atlas of Ancient Egypt
By John Baines, Jaromir Malek,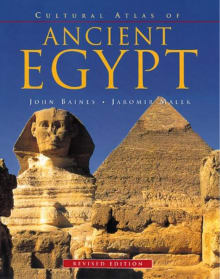 Book description
Filled with fascinating facts and stunning images, this single-volume reference to ancient Egypt introduces readers to this unique, sometimes startling culture.
Why read it?
1 author picked Cultural Atlas of Ancient Egypt as one of their favorite books. Why do they recommend it?
Ann R. Williams
The dates that Egyptologists use for most rulers are guesstimates, and there's not one fixed dating scheme.
Just for instance, one reference volume gives 1334-1325 B.C. as the dates for King Tut's reign. Another says 1332-1322 B.C. And yet a third another has 1336-1327 B.C.
How do you know which one to believe?
During the three decades I worked as a staff writer at National Geographic magazine, we relied on the king list that Baines and Malek published in this book.
I still consider it as the last word on dates for my own research. It's also full of very…