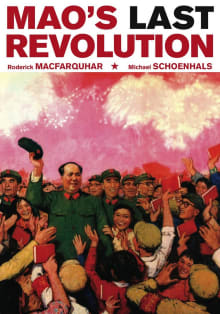 Mao's Last Revolution
By Michael Schoenhals, Roderick Macfarquhar
Why this book?
This instant classic was the first to draw deeply on a wide range of previously inaccessible sources about the Cultural Revolution of 1966 to 1976. Highly readable and authoritative, it provides extensive insight into Mao's actions and those of his subordinates and victims and documents the destructive impact of these conflicts all across China from the initial salvos at Peking University in May 1966 to the immediate aftermath of Mao's death, which led to the arrest of Mao's most ardent radical followers, the "Gang of Four".

From the list:
The best books about China from the Mao years through Tiananmen
When you buy a book we may earn a small commission.