Words in Time
By Geoffrey Hughes,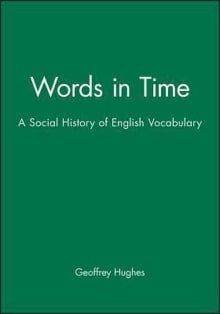 Book description
The word "blurb" derives from a "pulchritudinous young lady" of that fictional name who appeared on a book-cover at the turn of the century. Quarrying the "Oxford English Dictionary" for its evidence, this book traces the extraordinary way in which English words have changed their meanings over the past millennium.…
Why read it?
1 author picked Words in Time as one of their favorite books. Why do they recommend it?
David Crystal
The important word in the title is "social." The author brings together words that belong to a particular theme, such as journalism, economics, and politics. An example? A 'historical menu' from Anglo-Saxon times (bread, butter, cucumber) through Shakespearean times (tomato, potato, banana) to the present-day (pizza, tacos, hamburger). And not forgetting drinks, from beer to Coca-Cola. It's a fascinating exercise in the linguistic archaeology of social transformation.