The Stoics Reader
By Brad Inwood, Lloyd P. Gerson,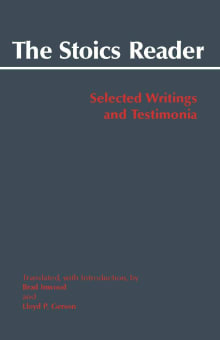 Book description
This volume gathers together the most important evidence about Stoic thought surviving from the ancient world. It is an expanded version of the section on Stoicism in Inwood and Gerson's Hellenistic Philosophy, consolidating related texts into larger, more continuous selections, adding material on the skeptical attack on Stoicism, and a…
Why read it?
2 authors picked The Stoics Reader as one of their favorite books. Why do they recommend it?
Gregory Lopez
The surviving writings of the "big three" Stoics—Marcus Aurelius, Epictetus, and Seneca—are the first places people turn when they want to learn about Stoicism from its original practitioners. But these three sources are missing something very important: a coherent overview of Stoic ethics. The Stoics Reader has not just one, but three such overviews from the ancient philosophical biographer Diogenes Laertius, the Stoic sympathizer Cicero, and the Stoic teacher of Augustus Caesar—Arius Didymus. This volume is one of the few places you can find an English translation of Arius's summary of Stoic ethics, making it worth the price of purchase…
Gary W. Cross
A good place to start the exploration into Stoicism. This book introduces the main characters of Stoicism, and the main areas they focused on, such as Physics and Ethics. Importantly, the book provides sources from ancient sources to expound the different areas.