The Inner Citadel
By Pierre Hadot, Michael Chase (translator),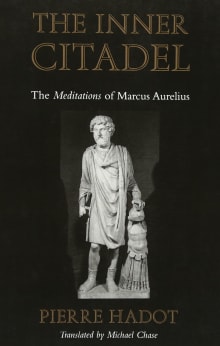 Book description
The Meditations of Marcus Aurelius are treasured today--as they have been over the centuries--as an inexhaustible source of wisdom. And as one of the three most important expressions of Stoicism, this is an essential text for everyone interested in ancient religion and philosophy. Yet the clarity and ease of the…
Why read it?
3 authors picked The Inner Citadel as one of their favorite books. Why do they recommend it?
Donald J. Robertson
The French philosopher and historian, Pierre Hadot, was the first modern author to systematically describe the "spiritual exercises" found in ancient Greek and Roman philosophical texts. This book is the most popular scholarly analysis of the Meditations of Marcus Aurelius available. It provides essential information on the underlying structure of Marcus' writing and how it fits into the broader system of Stoic philosophy. Although an academic work, most nonacademics find Hadot very readable. 
John Sellars
Pierre Hadot is famous for arguing that in antiquity philosophy was understood as above all a way of life. Although some scholars have pushed back against his account, it's a really fruitful way to approach Marcus's Meditations, which clearly isn't a typical theoretical philosophical text. Hadot approaches the Meditations as a series of written 'spiritual exercises' through which Marcus is trying to transform himself. In the process of writing my own book on Marcus I came to disagree with a number of the claims that Hadot makes, but even so The Inner Citadel remains a highly stimulating and engaging…
Russell B. Goodman
I encountered the Meditations of Marcus Aurelius in a course on ancient Greek philosophy when I was an undergraduate at Penn, and from time to time found it helpful for my inner tranquility to follow his advice. That advice is not always easy to heed, hence the importance of the "spiritual exercises" detailed in this brilliant study by a French scholar who conceives of philosophy as "a way of life." I love many things about Marcus, among them the way he counsels himself when he gets up in the morning to expect, in his duties as an emperor, to encounter…