The Emperor's Handbook
By Marcus Aurelius, David Hicks, C. Scot Hicks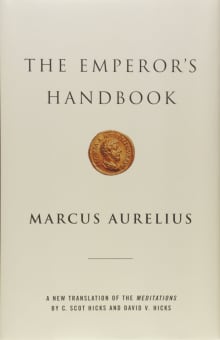 Book description
BEAR IN MIND THAT THE
MEASURE OF A MAN IS THE WORTH OF THE THINGS HE CARES ABOUT.
IF IT IS GOOD TO SAY OR DO
SOMETHING, THEN IT IS
EVEN BETTER TO BE CRITICIZED FOR
HAVING SAID OR DONE IT.
ARE MY GUIDING PRINCIPLES
HEALTHY AND ROBUST? ON THIS…
Why read it?
2 authors picked The Emperor's Handbook as one of their favorite books. Why do they recommend it?
Wendy Thomas Russell
I often joke that Marcus Aurelius is my brother from another mother. Sure, he was a Roman emperor who, if he'd lived, would be 1,900 years old this year, but the things he wrote in Meditations — his book on Stoic philosophy written for himself between 170 and 180 CE — are perfectly on point. I feel like he's writing from inside my head, struggling with the same challenges I do. Of course, Aurelius is not so much like me as much as he's like every human on the planet; he just happened to think and express himself in a…
Ronald W. Pies
There have been many fine translations of the classic Stoic handbook (the Meditations) by the Roman Emperor, Marcus Aurelius. But the one that captures the vigor and spirit of this great philosopher-ruler is the new translation by David and Scot Hicks. In bold, declarative sentences like, "The best revenge is not to do as they do," Hicks and Hicks bring Stoicism to life and show its relevance to our very troubled age.