Patriot Games
By Tom Clancy,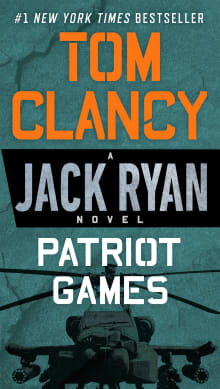 Book description
Don't Miss the Original Series Tom Clancy's Jack Ryan Starring John Krasinski!

Tom Clancy reveals Jack Ryan's origins in this electrifying #1 New York Times bestselling thriller that pits the former Marine turned family man against a vicious group of international terrorists.

As an American in London on vacation with…
Why read it?
2 authors picked Patriot Games as one of their favorite books. Why do they recommend it?
Robert Patrick Lewis
In the fight against the War on Terror, many Americans have long forgotten the war that never stopped raging against an enemy that is better funded than many of our governmental organizations, is not bound by any laws or treaties, has a virtually unlimited supply of money, weapons, and soldiers, and is located just south of our borders. 
Patriot Games is an oldie but goody, a fictional novel that sheds light on the realistic way in which our War on Drugs encompasses Special Operations troops working hand in hand with intelligence agencies and law enforcement. I have friends who have…
John Casey
Fans of stories like Tom Clancy's Patriot Games—those who savor a page-turner about an unlikely spy thrust into adversity (only to emerge the strongest and most capable of them all)—understand the draw and value of a main character who succeeds through wit and sheer perseverance in the face of seemingly insurmountable odds. Jack Ryan is known worldwide as the personification of this, and is one of two spy thriller characters I used as inspiration for my development of Michael Dolan, the main character in my trilogy.