How I Live Now
By Meg Rosoff,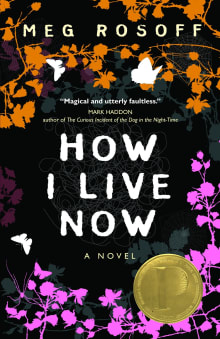 Book description
How I Live Now is an original and poignant book by Meg Rosoff

How I Live Now is the powerful and engaging story of Daisy, the precocious New Yorker and her English cousin Edmond, torn apart as war breaks out in London, from the multi award-winning Meg Rosoff. How I…
Why read it?
3 authors picked How I Live Now as one of their favorite books. Why do they recommend it?
Catherine Austen
I just read this book—it's been in my TBR pile since 2004—and it's why I chose the theme of siblings. I loved the voice of this novel, the narrator's young outsider perspective, her humour and heart—Daisy is such an unexpected character to tell a war story through. But what I loved most about the book is the sibling vibe in the house of her cousins. Edmond, Piper, Osbert, and Isaac—each of them is who she/he is because of their siblings. You could remove one from the plot (well, not Edmond!) but the others wouldn't…
Diane Terrana
Daisy, whose life "so far has been plain" leaves New York to visit relatives in London. After she arrives, war breaks out and Daisy's ordinary world becomes extraordinary. Like the British children's novels I used to gorge on (a long time ago!) all the grownups are gone, paving the way for a taboo relationship. I was surprised at how easily Rosoff convinced me that England was at war. But mostly I was captivated by the writing. Meg Rosoff writes this novel in the kind of run-on sentences I hate unless Salmon Rushdie is writing them, except…they work. Beautifully. I can't…
Annika Thor
15-year-old Daisy leaves her conflict-ridden home in New York to spend the summer with her four cousins in the peaceful English countryside. When war breaks out, the rural atmosphere is shattered and the young cousins have to take care of themselves and each other. 
What makes this book so heartbreaking is Daisy's narrative voice: tough and vulnerable, funny and sad, yet always credible. Meg Rosoff has the courage not to oblige the reader with a happy ending: when Daisy decides to return to England after the war is over, she is well aware that life will be difficult – but…