Armed with Abundance: Consumerism and Soldiering in the Vietnam War
By Meredith H. Lair,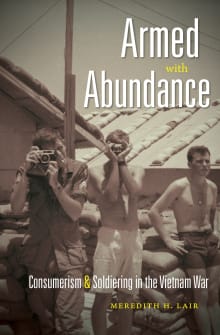 Why this book?
How music became so readily available to Vietnam soldiers is emphasized in Armed with Abundance. Trying to remedy the tenuous morale among GIs, the U.S. military provided them with "creature comforts" in an effort to make war easier, and certainly more palatable. Lair finds that consumption and satiety, more so than privation and sacrifice, defined the experience of most soldiers' Vietnam deployments. She reveals that in 1969 and 1970, for example, soldiers purchased nearly 500,000 radios, 178,000 reel-to-reel tape decks, and 220,000 cassette recorders. Rock and roll was there to stay!
---