Putin's Kleptocracy: Who Owns Russia?
By Karen Dawisha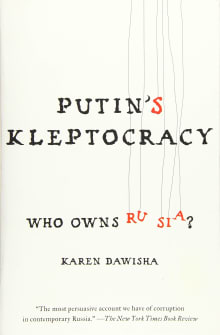 Why this book?
If an international criminal court ever decides to throw the book at Vladimir Vladimirovich Putin, then Karen Dawisha's Putin's Kleptocracy is the book the prosecutor would pick up. Dawisha has followed up every trace of Putin's activity since the KGB was officially dissolved and given, with varying certainty and assurance, the dates, the locations, associates, and outcomes of some twenty years of criminal activity — hit-and-run car accidents, fraud, misappropriation of national and international funds, chicanery, grand larceny, false accusation, torture, murder, war crimes, terrorism. The British reader could not for some years buy Dawisha's book; in the UK it was rejected by a publisher afraid of being sued.

---
When you buy a book we may earn a small commission.