Putin's Kleptocracy
By Karen Dawisha,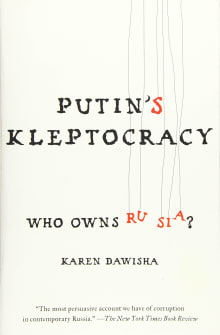 Book description
The raging question in the world today is who is the real Vladimir Putin and what are his intentions. Karen Dawisha's brilliant Putin's Kleptocracy provides an answer, describing how Putin got to power, the cabal he brought with him, the billions they have looted, and his plan to restore the…
Shepherd is reader supported. We may earn an affiliate commission when you buy through links on our website. (learn more)
Why read it?
3 authors picked Putin's Kleptocracy as one of their favorite books. Why do they recommend it?
David Satter
The late Karen Dawisha offers the best account so far of Putin's early career and the connections and corruption that paved his path to power. Her historical examples of Putin's greed and connections with organized crime shed important light on the way Russia is ruled today.
Mark Galeotti
It's all about the money. Behind the nationalist bluster, the Putin regime is made up of a collection of crooks and cronies embezzling, taking bribes and demanding payoffs with enthusiastic greed. Although one can question her assumption that this was the plan from the beginning – Putin is more an opportunist than a planner – it's a meticulous and scholarly exploration of how a country can be stolen from under the noses of its own people.

Donald Rayfield
If an international criminal court ever decides to throw the book at Vladimir Vladimirovich Putin, then Karen Dawisha's Putin's Kleptocracy is the book the prosecutor would pick up. Dawisha has followed up every trace of Putin's activity since the KGB was officially dissolved and given, with varying certainty and assurance, the dates, the locations, associates, and outcomes of some twenty years of criminal activity — hit-and-run car accidents, fraud, misappropriation of national and international funds, chicanery, grand larceny, false accusation, torture, murder, war crimes, terrorism. The British reader could not for some years buy Dawisha's book; in the UK it…