Blue Highways: A Journey into America
By William Least Heat-Moon,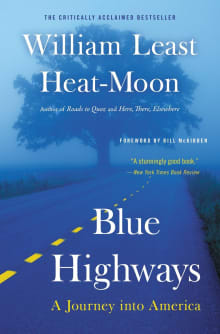 Why this book?
Considered a travel writing classic, this book derived from a series of major changes to William Least Heat-Moon. After separating from his wife and losing his job as an English professor, he decided to drive alone in 1978 along the back roads of America, the roadways that are usually marked in blue on maps. He met an array of characters that could fill a novel, from an evangelical hitchhiker to a rural Nevada call girl. And it was all true, unlike novelized classics such as Jack Kerouac's On the Road.

---