The Eight Knights of Hanukkah
By Leslie Kimmelman, Galia Bernstein (illustrator),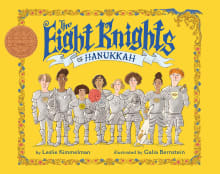 Why this book?
So many Hanukkah books are super serious. I love the way Leslie Kimmelman cleverly uses wordplay to expand the story of the 8 nights of the holiday into something completely unexpected and uproariously funny. The book obviously references a Jewish holiday, but the story will have broad appeal to children of all religious backgrounds and children living in strictly secular households too.
---