Traditional Recipes of Laos
By Phia Sing,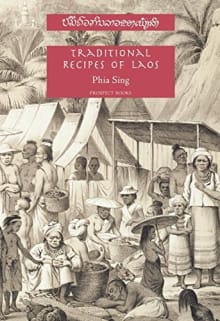 Why this book?
In 2000 I read a sentence in a guidebook stating that there was only one book in print on Lao cuisine written in the English language. The lone cookbook was called
Traditional Recipes of Laos
and was printed by Prospect Books, a tiny publisher of culinary academia and rare recipes. It was a real find, for it contained the recipes of the late king of Laos's chef, Phia Sing – the recipes of the royal court of Laos! This book sent me to Laos to find out more and write my own book.
The story behind the publication of the book was extraordinary. The king's chef had handwritten his precious recipes in two small exercise books, which on his deathbed in 1967, he gave to the Crown Prince for safe-keeping. In 1974, Alan Davidson, the British ambassador to Laos and respected food academic, happened to be chatting to his Royal Highness when he mentioned his difficulty in finding written sources of Lao fish recipes for a book he was writing on fish species when the story came out. He borrowed the books and photocopied them before giving them back. This chance encounter with the Prince and the notebooks became an act of preservation, soon after this conversation, the communist party – the 'Pathet Lao' took over the country, dissolved the monarchy and the original books were lost forever.
Alan Davidson published a translation of the notebooks in 1981, giving the proceeds to Laotian political refugees fleeing from the country's re-education camps. He thus ensured the only written record of royal Lao cuisine available today.
---