Something from Nothing
By Phoebe Gilman,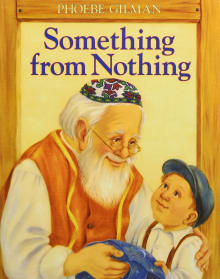 Why this book?
A deft, charming re-telling of a Jewish folk tale, and winner of the Ruth Schwartz Award. In this gentle story, young Joseph grows up in a shtetl in a warm and loving home. His grandfather, a tailor, makes him a beautiful blanket at birth. As he grows, the blanket becomes worn, but Grandpa can always rejig the fabric into something new. At last, however, the sad day arrives when nothing is left of the blanket… until Joseph realizes that what's left is a wonderful story. 
I nominate this book as a storyteller's delight because of its comforting, cyclical nature, and surprise ending. While Gilman's glowing pictures augment the story perfectly, with their warm, humorous depiction of family life, the story can easily be memorized, told, and enjoyed when no pictures are available.
---